Dr John Chaplin
Auckland Expert Rhinoplasty Surgeon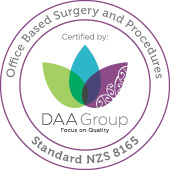 John is a highly skilled surgeon specialising in rhinoplasty and facial plastic surgery as well as head and neck reconstruction. His many years experience in this type of surgery makes him an expert in rhinoplasty and facial cosmetic surgery. His understanding of how the face functions and is delicately put together, provides a deep understanding of how to get the best results when performing cosmetic surgery. Rhinoplasty is one of the most difficult operations to perform, John creates exceptionally natural results, while ensuring that the function of the nose i.e. breathing, is not restricted or impacted by the cosmetic surgery.
John graduated from the The University of Auckland School of Medicine in 1988. He began his specialist training at the Royal Throat Nose and Ear hospital in London in 1990. After returning to New Zealand he completed surgical training in Dunedin, Waikato and Auckland and passed the Royal Australasian College of Surgeons final examination in 1996.
Following this John spent two years in post graduate fellowship positions. The first year was spent at the Mount Sinai Medical Center in New York City being trained by Professor Mark Urken a world renowned specialist in head and neck plastic and reconstructive surgery. John then went to work at The Royal Prince Alfred Hospital in Sydney Australia under Professor Christopher O'Brien, Head and Neck Surgeon.
John was awarded a post training fellowship by the prestigious Garnett Passe and Rodney Williams Memorial Foundation and he remains one of the very few New Zealand recipients of this award.
Since returning from this training in 1999 John has gained a large experience in cosmetic and functional rhinoplasty. He performs cosmetic and functional rhinoplasty every week and is invited to lecture on rhinoplasty and teach at facial plastic surgery courses.
John operates at Gillies Hospital at 160 Gillies Ave, Epsom in Auckland He consults at Mauranui Clinic, 86 Gt South Rd opposite Dilworth School near NewMarket